Jennie Shaw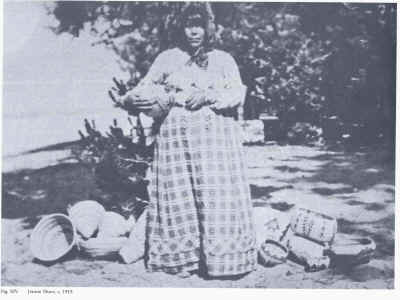 Jennie Shaw - Born around 1874
"Jennie's baskets are less inconsistent in technique than in approach. Her start may be plain or braided. Jennie averages five stitches per centimeter, and she generally employs a wide coil. Jennie usually attempts to cover as much of the surface of the basket as possible, either with medium sized designs evenly dispersed or with extremely large alternating motifs. These complex and expansive designs are made especially bold and striking by the coarseness of the stitch and coil."
Picture and Text From Marvin Cohodas Ph.D. Book:
"Degikup"
Click Here For More Info:
Story: Carol Van Etten: Mentions Jennie Shaw as being part of a "proud sorority of Washoe basketmakers"


See Marvin Cohodas's Book:
"Degikup"
for more info on these Weavers
Or:
E-mail us at
sales@californiabaskets.com
for a free info packet on Jennie Shaw