| | | |
| --- | --- | --- |
| | CaliforniaBaskets | |
Maidu Indian Baskets
Patwin Bowl

Willow, Redbud,

9"d x 6"h

$3,500

Maidu Bowl

Willow, Redbud,

6 1/2"d x 3 1/2"h

$2,500

Maidu Basket

3" h x 6.5" d

$2,000

Maidu Tray
6 1/2" d
$900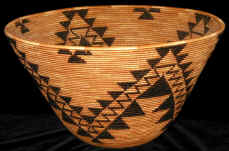 Click Here to View My Favorite Maidus

---

Maidu Indian Baskets
The Maidu Indians lived in the Northern Sacramento Valley, from the Sacramento River on the west, up the Sierras to the east.
The Maidu used coiled baskets as well as many other techniques.
Ceremonial Gift Baskets, feasting bowls, trays and miniature baskets all make up the Basketry of these fine weavers.


Maidu Indian Basket Weavers

Salena Jackson
Polly Peters
Lizzie Enos
Amanda Wilson
Mary Azbil
---
Maidu Indian Internet Sites

Maidu: This page is Dedicated to the Maidu Indian's, Past and Present.

Maidu Indians:... LINKS TO SITES ON AMERICAN INDIANS & THE MAIDU .
The History Of The Mechoopda Indians:
The Mechoopda are a band of the northwestern Maidu and are believed to have lived in villages in what is now Chico - extending from Dayton to the east side of Little Chico Creek.
SHORT OVERVIEW OF CALIFORNIA INDIAN HISTORY - Maidu - By: Professor Edward D. Castillo
Cahuilia-Luiseno
---
Maidu Indian Basket Museums

Butte County Museum, Chico, California

Chester Museum, Chester (530) 258-2426

Chester Museum features historical photographs along with Maidu Indian basketry and artifacts.

Indian Valley Museum, Taylorsville, (530) 284-7455

Indian Valley Museum features two large rooms that house Native American and other historical exhibits. A private museum, it is sponsored by the Mt. Jura Gem & Mineral Society.



Plumas County Museum
500 Jackson Street
Quincy, CA. 95971
(530)283-6320

This beautiful two story historical museum serves as a permanent record of the people, places and activities of Plumas County. Exhibits include historical artifacts, mining and logging displays and a collection of baskets woven by the local Maidu Indians.
---
Maidu Indian Book Reviews

The Northern Maidu by Marie Potts