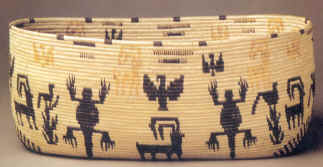 Photo from "Panamint Shoshone Basketry" by Eva Slater
Sarah Hunter was born and spent almost her entire life in the Saline Valley. She was born in 1883 and died in 1967. She used the same designs as her sister, Maggie Juaquin, the pictures off of the canyon walls, for her baskets.
All info and pictures were taken from Eva Slater's book
PANAMINT SHOSHONE BASKETRY An American Art Form
Available here!