Scees Bryant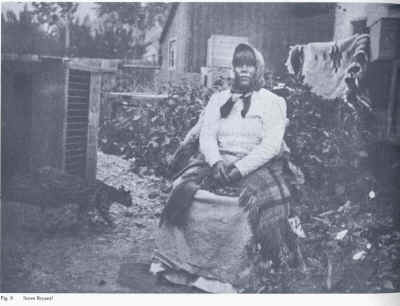 "Scees Bryant was born around 1858, of unknown parents. Her first husband, Jim Bryant, was the brother of Dat So La Lee. Their son, Hugh Bryant, was born around 1898. After Jim's death in 1908, Scees married Indian Charley, and later George Possock, with no children surviving from either of these marriages. Scees died in the great 'flu epidemic of 1918, introduced by soldiers returning from World War I."
"Most of Scees's baskets have a round start with an opening left in the centre, sometimes filled with a wooden plug, while others lack the opening and three have an oval start. Frequently Scees uses a fairly narrow coil from the start, and then gradually widens it. Scees's degikup is generally smaller that Dat So La Lee's, rarely reaching 25 centimeters in height. Scees's technique averages eight stitches per centimeter, which is significantly less than Dat So La Lee's but still superior to that acheived by most Washoe weavers."
Picture and Text From the Book:
Degikup: Washoe Fancy Basketry 1895 -1935
By: Marvin Cohodas Ph.D.

Click Here For More Info:


See Marvin Cohodas's Book:
"Degikup"
for more info on these Weavers
Or:
E-mail us at
sales@californiabaskets.com
for a free info packet on Scees Bryant